Description
LowDeck is also particularly suited to retro fit projects as it can be installed over existing structural floor decks.
Made from high grade wood, the LowDeck panels provide a strong base for floor finishes to be applied on top. Furthermore, as LowDeck is a completely dry construction, the floor finish can be immediately installed over the top making the total installation time extremely quick. Seek suppliers' advice for specific floor build up to suit their product.
The aluminium foil layer helps to distribute the heat evenly and gives the system a high heat output. The foil also replaces the need for separate spreader plates, considerably speeding up the installation. What's more, the perforated foil also displays the pipe channels with perforations to make it easy to see where to fit the pipe.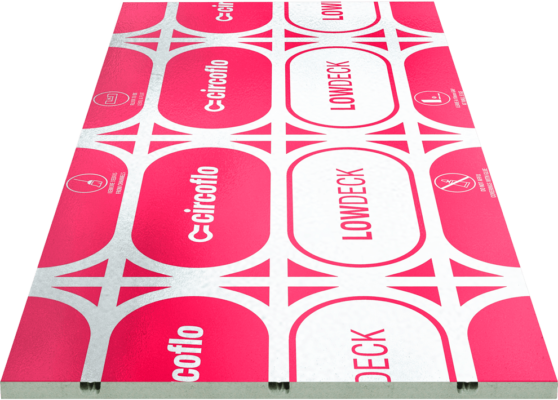 [divider width="100%"]
[row]
[col span="3″ span__sm="6″]
[ux_image id="16734″]
[/col]
[col span="3″ span__sm="6″]
[ux_image id="16735″]
[/col]
[col span="3″ span__sm="6″]
[ux_image id="16736″]
[/col]
[col span="3″ span__sm="6″]
[ux_image id="16737″]
[/col]
[/row]
[divider width="100%"]
[ux_video url="https://www.youtube.com/watch?v=LIWDuCoJ1tc" height="40%"]