Description
The CircoBoard panels, consisting of an 18mm insulating layer and 6mm pre-bonded high-density wood layer, sit between the joists on brackets (or between battens – additional insulation should be installed to raise the panel to the height of the batten). This means that underfloor heating can be installed without any increase in the floor height.
CircoBoard also come with a pre-bonded aluminium diffuser, allowing heat to be radiated across the whole panel and giving an excellent heat output without the need for troublesome heat spreader plates.
The multi-directional pipe channel pattern makes installation even easier and with pipe at 133mm centres the heat output and warm up time are improved or systems at 150mm or 200mm pipe centres.
You will need approximately 3.3 panels per m2. CircoBoard is available in boxes of 8 (CFU-CBD24810) and 144 (CFU-CBD24144). 'L' shaped brackets are available to support the Circoboard panels when fitted between joists and ensure the panels are in direct contact with the floor deck, 1 box of 16 brackets (CFU-ABKT1610) is recommended for 1 box of CircoBoard (CFU-CBD24810).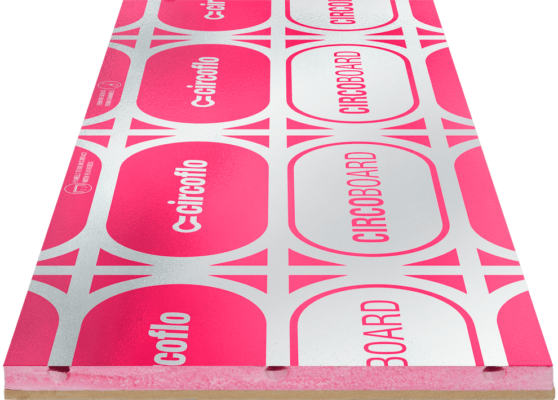 [divider align="center" width="100%"]
[row]
[col span="3″ span__sm="6″]
[ux_image id="16659″]
[/col]
[col span="3″ span__sm="6″]
[ux_image id="16660″]
[/col]
[col span="3″ span__sm="6″]
[ux_image id="16661″]
[/col]
[col span="3″ span__sm="6″]
[ux_image id="16662″]
[/col]
[/row]
[divider align="center" width="100%"]
[ux_video url="https://youtu.be/KDXREHiKqJU" height="40%"]